Normally, January is a good reading month, but this year has been the exception, mostly because I've been busy with various writing projects. I did manage to squeak in a few new books.
New Books I read in January
One Among Men-Connie Almony
Genre-Christian Romance, Contemporary
I first heard about One Among Men when the author promoted it in a Facebook group I'm a member of. I thought the plot sounded interesting so I picked it up. While I found the basic plot intriguing, I had a really difficult time getting excited about the main character, who was a little too whiney for my taste. I also felt that the way her RA's responded to her to be a little unrealistic. However, despite these issues, I did find myself turning the pages to find out what had happened next, and think that the book would be enjoyed by young adults who enjoy romance.
Don't let the title fool you. One Among Men is a very clean read with strong Christian themes.
My review of One Among Men can be found
here
.
Her Unconventional Suitor-Ginny Hartman
Genre-Regency Romance
This was another book I found through a Facebook group that intrigued me. It's the first book in a series called The main character, Benedict St. Claire, accepts a bet that he can attract a wife despite being dressed in clothing that don't suit a man of his rank. He doesn't expect to fall in love along the way.
While this book wasn't quite the humorous romp I was anticipating, I did enjoy it. There was even an unexpected twist at the end which I suspect will be an issue that comes up in future books.
Her Unconventional Suitor is a Regency romance that's very clean. I imagine it will appeal to readers who enjoy Georgette Heyer style romances.
Absolution-Carolyn Brown
Genre- United States historical romance, Reconstruction Period, Rural Romance
I read Absolution as part of the Year Without a Duke challenge. It's a story that's set just after the US civil war and features a young woman of English descent who supported the North and a young Texan of Irish/Mexican descent.
While there were some aspects of the heroine's personality that drove me nuts, overall I enjoyed the story.
My full review can be found
here
.
I consider Absolution to be a fairly clean read, though it was a tad steamier than the previous two books I've mentioned.
Books I reread in January
Come to Grief-Dick Francis
Genre; Mystery, horse racing, disabled characters
While there are aspects of the storyline that make my stomach twist, it's still a good solid read. It helps that Sid Halley happens to be my second favorite Dick Francis character.
The Lion, The Witch, and the Wardrobe-C.S. Lewis
I don't even want to think about how many times I've read this book. Still my all time favorite
J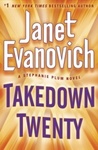 Takedown Twenty-Janet Evanovich
Genre: Comedy, mystery
Whenever a Stephanie Plum novel pops up on my reading list, it means I was a little stressed. They never fail to make me smile and serve as a kind of mental vacation.